If you're looking to upgrade your TV – either due to it conking out, or just for the sheer hell of it – there's no better place to look than AO. There, you can pick up any one of a huge number of great LED, QLED and OLED televisions, including this stunner from Hisense. As a brand, Hisense is rightly renowned for bringing you high quality at uncannily affordable prices and the Hisense 55A7GQTUK 55-inch QLED is no exception.
AO is also the perfect place to buy thanks to perks such as, delivery slots* to suit you, including next-day and weekends, a price match promise and great customer service – no wonder they've scooped up over 280,000 5-star reviews at Trustpilot. That's a lot of persuasive reasons to shop at AO.
The TV: a quality QLED at a perfect price
Hisense 55A7GQTUK is a cracking 4K UHD QLED TV. It offers incredible image quality – that almost goes without saying – but it can also produce beautiful music, sound effects and dialogue, thanks to support for Dolby's all-enveloping Atmos surround sound.
QLED screen technology is perfect for everyday viewing, at any time of day. That's because it's able to produce bright visuals with rich colours even in sunlight. You may as well retire your curtains, because they won't be required here.
This big-screen TV is superlative value at just £498, but it certainly doesn't skimp on features. There's an excellent smart TV platform for all your streaming and catch-up TV needs, the option of voice control via your Alexa or Google smart speaker, and Dolby Vision HDR so you can see movies just as the film-makers intended. There's even a dedicated sports mode to make the big match even more exciting.
If a 55-incher isn't right for your space, there are also 50-, 65- and 75-inch incarnations of this telly, all at Hisense's usual great prices.
The shop: why you should upgrade your TV at AO.com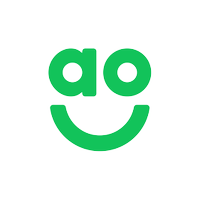 AO is one of the UK's most trusted retailers, with over 280,000 5-star reviews on Trustpilot. AO has a huge range of the latest and greatest TVs from all the biggest brands, and will price match any other retailer, in the unlikely event you can find your dream TV cheaper elsewhere. The 55-inch Hisense 55A7GQTUK shown here can be yours.
AO can deliver your new TV quickly and at a time to suit you, with precise time slots 7 days a week, and the option of next-day delivery*. For further peace of mind, AO offers free returns within 100 days of purchasing.
* Availability & geographical restrictions apply