A five-star rating might be the holy grail when it comes to What Hi-Fi? reviews, but I'll let you in on a secret: we all use four-star products in our homes and in our daily lives. And not just when no one's looking.
While a five-star rating means the product (whether a turntable, wireless earbuds, speakers, amplifier or TV) is an exceptional performer for the price, not all five-star products are the same. And the very same goes for four-star products. While that means they may not be the all-rounder at the price point that their five-star rivals are, they're not far off the mark. There is always a specific feature, a quirk or a sound profile that might suit you perfectly for what you are looking for in a product.
I'll give you two examples that I genuinely use at home, and regularly. The Sonos Roam portable Bluetooth speaker and the Beats Fit Pro wireless earbuds.
The Sonos Roam lives in my kitchen. Yes, it received a four-star review from us, but it's the speaker I have chosen to keep me company while I cook up a stir fry. It's a great little portable speaker that is versatile (it comes with all the Sonos ecosystem perks) and is so easy to use with just a Bluetooth connection to my iPhone.
Crucially, it's just the right size to fit onto my crowded and narrow kitchen counter. The Roam's slim profile works in any orientation, it is durable enough to withstand all the splashes, spills and debris from cooking, and it's a doddle to use with the on-unit controls. I don't even have to use wi-fi or the dedicated Sonos app, as I stream all my Apple Music playlists over Bluetooth.
The sound quality is also enjoyable and not too bass-heavy, either. The Roam's musical highlight is the way it puts voices in the spotlight. We said in our review that the "mids are the star of the show… Deeper voices in particular can be lusciously full and are placed well enough forward in the mix…" This works out perfectly for me when I want to hear a podcast or music above the exhaust-fan noise when cooking. It's a sweet, easygoing listen for when you just want something playing in the background to accompany a daily task.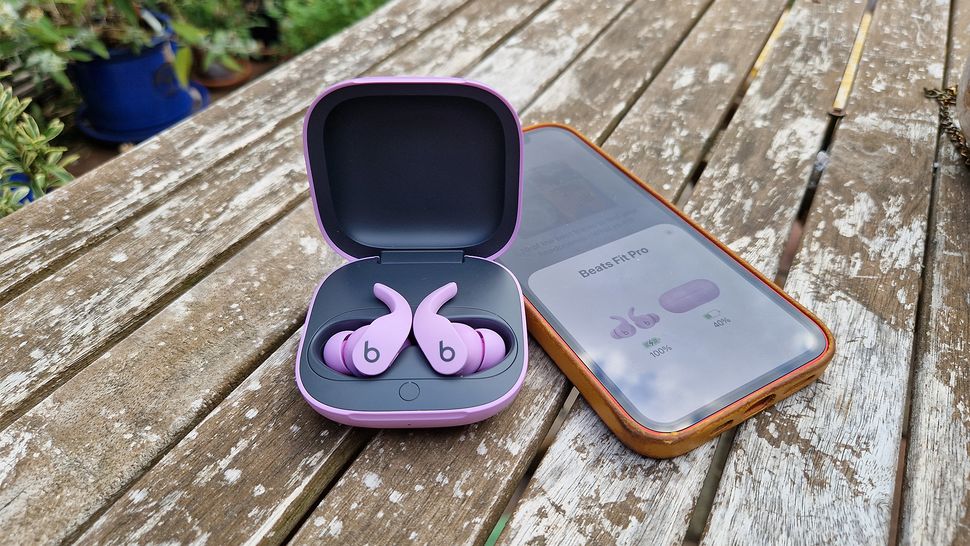 The Beats Fit Pro are another four-star product that I've been using ever since we reviewed it last year. While being a tech journalist means there are always too many wireless earbuds boxes floating around, it's the Beats Fit Pro that have cut through the gaggle for me.
They are a fine option, and not just because the ones I have come in a pleasing, soothing lilac shade. Having now shed its once overly bass-heavy identity, Beats has also gained a more mature balance in its recent models, while still offering a more fun alternative to its staid Apple AirPods siblings.
The sound quality is as lively and exuberant as a puppy, with a snappy sense of timing and punch. Voices are clear and pushed a tad forward, and while there's still a slight overexcited quality to the top end, Beats' flagship pair never sound too brash to be uncomfortable. In fact, I easily preferred this presentation over the older, first gen AirPods Pro model (four stars) – the Beats is simply more fun.
I don't go out for a run often (okay, barely ever) but the wingtips the Fit Pro have as part of their design are the game-changer. Whether on my daily commute, if I'm on the exercise bike or going on that mythical run, it's the Fit Pro's wingtips that neatly tuck into my ear that offer the more secure option compared with other earbud designs. Thanks to this design, the Fit Pro have never been dislodged from my ears, and it's something that endeared them to me from the start. The battery life is strong, the transparency mode is also decent (when I need to be aware of traffic or the doorbell), and they are seamless in use with both Android and iPhones – just as you would want from a pair of earbuds.
There are plenty of other cases where a four-star product will suit exactly what someone is prioritising in their audio product. Looking for a hi-fi streaming solution but you have next to no space? The petite Bluesound Powernode Edge is smaller than a What Hi-Fi? magazine's footprint and has a host of streaming features to make it worth your while. Prefer "breathtaking" midrange fidelity above all else? You might love the Sennheiser HD 660S2 headphones. Audio Technica's AT-LPW50BTRW is a fine Bluetooth turntable that will work a treat with vinyl and streaming alike.
And I'm not the only one: there are others on the team who have been more than happy with a four-star TV set (not everyone needs all the latest shiny specs, after all) or a decent pair of over-ears to block out the office chatter, while another colleague adores having the fun little Wonderboom 3 speaker at home.
So, don't be deterred if the product you have been hankering after received a four-star review. You might still find a space for it in your home and enjoy it all the same.
MORE:
Head-fi is better than hi-fi – but not nearly as fun
The most important component in your hi-fi system isn't what you think it is
Check out all of our recent What Hi-Fi? product reviews