While it can be tempting to reminisce about the good old days of British hi-fi, the truth is that the here and now is pretty great too. We've seen some sensational hi-fi kit since the millennium and, to celebrate British Hi-Fi Week 2023, have highlighted our favourite 26 below.
Witness speaker brands like B&W and ATC deliver future stereo speaker classics. Or KEF and Naim rewrite the rulebook of what's expected from a hi-fi system. You'll find a sensational CD player that proved untouchable for many years, an integrated amplifier that shook the market, and a turntable that continues to fly high 40-odd years after first launching. And all as British as James Bond driving an Aston Martin through the Cotswolds on a grey, drizzly day.
Honestly, while this is purely a list of kit from British brands only, many of them would appear in a world-encompassing list were we to open up the borders to create one. That's how good British hi-fi is.
So join us as we count down the best hi-fi products that have flown the flag for Britain over the last 23 years...
Quad ESL 988 (2000)
We could easily have picked one of Quad's legendary electrostatic speakers from both sides of the millennium – after all, the 2008 ELS 2805 were positively stunning in our books – but the ESL 988 (smaller versions of the ESL 989 pictured) were standouts, and as well as delivering a memorable sound were also interesting for its place in the British company's history. They were essentially designed as a similar but improved successor to its 1988 ESL-63 when the International Audio Group (IAG) acquired Quad in 1998, very visibly based on the same design but with advanced components, a new transformer and more rigid construction among their improvements. And their sound rocked.
Mission 780 (2000)
Mission's diminutive 780 were the first standmounters to really grab us as the 90s turned into the 2000s, winning the stereo speaker Product of the Year award in both 2001 and 2002. Despite their relatively compact (for their time) dimensions – they were the smallest of the company's 78 Series – they produced a size of sound that belied it. Their clever tweeter isolation system and ceramic mid-bass driver produced an even-handed tonal balance that made them wonderfully listenable, with the sonic highlights being its impressively transparent midrange and powerful bass.
Arcam DiVA A85 (2001)
"The A85 blasts away any preconceptions of what an Arcam amplifier sounds like with the ferocity of a sledgehammer smashing through glass," we opened our DiVA A85 review with in 2001. In place of that warm, smooth, safe sonic signature we had come to know and love from Arcam powerhouses was a different beast entirely – clear, powerful and bursting with energy, with a midrange clarity and resolution that was unrivalled. For the A85, Arcam introduced entirely new circuit designs in both the pre-amplifier and power amplifier sections, and that new approach to the internals paid off. It said its A85 was "unquestionably a class-leading integrated amplifier" – and we could only agree.
Wilson Benesch Full Circle (2001)
"The Full Circle is an elegant product: for its build, ease of use and sound it's highly recommended… an open, even-handed record player that works well with all types of music." We've used higher degrees of superlatives to describe products than the ones we reached for in our Full Circle review, but make no mistake, we were blown away by this round layer-cake-shaped Wilson Benesch desk – back in 2001 and for years to come. Like many Wilson Benesch products of that time, including its only descendant at that time, the 1991 Wilson Benesch Turntable, the Full Circle used chiefly carbon fibre in its construction, from its carbon fibre armtube to its carbon fibre cantilevered suspension technique. The sonic result was a precise, spacious sound complete with a smooth treble and full bass.
Cyrus 8 (2002) & CD 8 SE (2008)
It's hard to pick between the Cyrus 8 Series amplifier and CD player (pictured), so we aren't subjecting ourselves to doing so. The 8 (and its multiple variations) has been a case of familiar design, familiar sound and familiar result throughout the model's history, which began in 2002 as a successor to the well-received Cyrus 7. Familiar in a good way, that is, like when your favourite meal is placed in front of you. The 8 amplifier represented everything we had come to expect from Cyrus – classic looks and trademark transparency. The CD8SE proved equally accomplished and just as valuable to the 8 series, offering, as we said at the time, "effortless musicality, forensic detail retrieval and masterful control of timing… it makes for an endlessly absorbing player that can rob you of your time in the most gripping way".
Naim CDS3/XPS2 (2003)
A rather frightening performance befitting a rather frightening price tag (£10k). We heralded this two-box Naim CD transport/DAC (CDS3) and power supply (XPS2), which was an alternative to the typical two-box configuration (transport in one box; DAC in another), as one of the world's best CD players. "There are products that cost many times more (honestly) that would have trouble bettering this performance," we said in our review. Timing was its forte, allowing the musicality of songs to really come through, and its level of resolution and clarity contributed to how emotional content was able to come through the player unmolested.
Wharfedale Diamond 9.1 (2004)
Another 'best of' list, another Wharfedale Diamond inclusion. We know, we know – but we can't help it. The Diamond really has been an iconic speaker range over the decades, and the 9 Series was one of the standout iterations. Representing it here are the 9.1 bookshelf speakers, which deserve to go down in history as one of the greatest budget loudspeakers ever made. Back-to-back What Hi-Fi? Award winners, designed and built in-house, and with 13cm Kevlar mid/bass woofers, 25mm textile tweeters, and custom crossovers at their engineering core, they looked and sounded like a much more expensive speaker.
Roksan Xerxes 20 (2006)
The Xerxes design (named after ) originated in the 1980s and was developed in all areas over the next two decades, with every iteration delivering an improvement on the last. "The Xerxes is arguably the first turntable to give the previously all-conquering Linn Sondek LP12 a real run for its money," we said at the time. It might not have looked all that special exactly – not like the Wilson Benesch further up this list. But what it lacked in aesthetic distinction it made up for in first-class engineering. A motor that turns on its axis to compensate for torque fluctuations, a bearing designed to minimise noise, and rubber suspension tuned to dampen specific frequencies were just some of the flourishes Roksan engineers worked into the Xerxes to make it perform as it did – exceptionally.
Audiolab M-DAC (2011)
Like the Grado SR325 headphone model and today, the M-DAC was a product we championed for years. We couldn't help it: the multi-Award-winner just had it all. Punchy timing, seamless dynamics and plenty of space in a well-constructed stereo soundfield, not to mention class-leading features (hi-res connections, XLRs, several DAC filters), a well-constructed build, and a price tag rival brands couldn't undercut with something better during those years of domination. It was finally knocked off its perch in 2015 by the Chord Mojo (which is still dominating that slice of the market eight years on) and succeeded by the bigger, better-sounding and more equipped M-DAC+. As we introduced the M-DAC+ back then, "for every tough-act-followed-with-aplomb like Kasper Schmeichel there's a Jordi Cruyff…"
ATC SCM 11 Mk2 (2013)
Both the first generation of ATC SCM11 (2006) and the Mk II which admirably followed in their footsteps deserve their place on this list, such has been their collective dominance over the past 17-odd years. That's thanks to the in-house manufactured soft-dome tweeter and the classier curved cabinets.
But the main innovation was the sealed cabinet. This was meant to improve sound quality, though there were some concerns that bass would suffer. They proved unfounded, however, as the Mk2 matched class rivals in terms of low frequencies while outdoing them for detail, dynamics and rhythmic ability.
These ATC monitors went on to dominate their price point at the What Hi-Fi? Awards for the next five years and remain first-class contenders, even today. Impressive doesn't do it justice.
Read the full ATC SCM11 Mk2 review
B&W 606 (2019)
The entry-level 600 Series from B&W was introduced back in 1995, and in the two decades since it has picked up multiple What Hi-Fi? Awards. It uses top technology from its cutting-edge speakers, repackaged in a more affordable chassis.
Our pick of the current range? The 606. They might feel a little less premium than their more expensive stablemates, but they still ooze quality. They're a good size too, with everything in proportion.
They sound amazing too. The sonic balance is spot on, with clear treble, cavernous bass and class-leading detail and dynamics. With such a legacy behind them, the 606 model is proving to stand the test of time, with the newer 606 S2 Anniversary Edition the latest version to carry the torch.
Read the full B&W 606 review
Cambridge Audio CXA81 (2019)
This Cambridge amp is still a relative newcomer, but in its pretty short life it's already had a seismic impact on the market. Upon arrival, it immediately set a new standard for integrated amps at this price – one that, four years later, it still sets today.
Give it a whirl and it's clear why. Feed it any genre of music, and you're met with a delightfully punchy, dynamic and detailed presentation. It's powerful and weighty in the low end without sacrificing agility, while the treble is blissfully free of harshness.
In terms of features and connections, it improves on every front compared to its predecessor. And it makes the competition sound positively cloudy by comparison. A more-than-worthy Award winner, and comfortably one of the best products of the decade.
Read the full Cambridge CXA81 review
Chord Hugo (2014)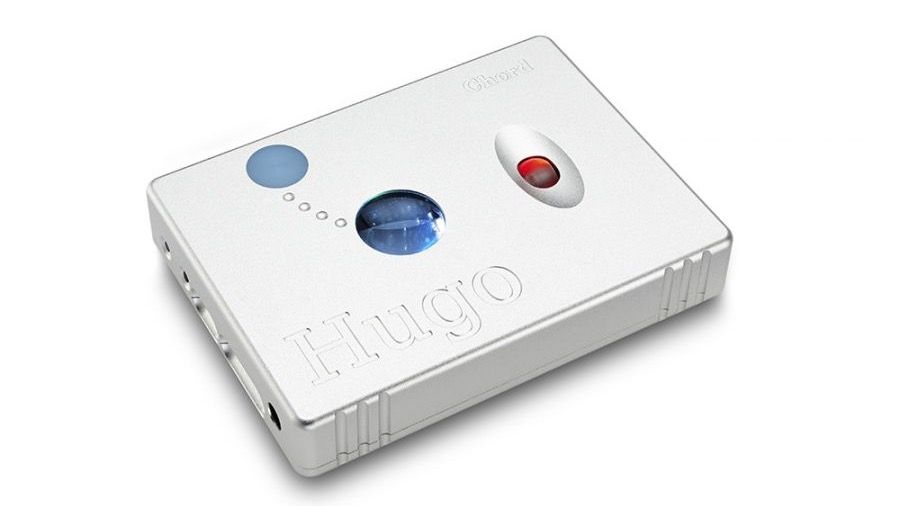 The original Hugo set new standards for portable audio (and in the process, embarrassed pretty much every similarly priced battery-powered DAC on the market).
It was all thanks to the FPGA (Field Programmable Gate Array), which came loaded with proprietary software that handled all the digital processes tasked to the DAC. Chord used this instead of off-the-shelf chips, which gave it much more control over how the music signal was handled. This put it head and shoulders above the competition.
Four years later, the Hugo 2 bettered the original and is still a benchmark setter (and could well be until a Hugo 3 comes along). But it couldn't be as groundbreaking. Few products are.
Read the full Chord Hugo review
Cyrus CDi (2013)
For as long as we can remember, Cyrus' CD players have been up there with the best in the world. And the CDi was its best-sounding yet.
Hitting the market in 2013, its audio output was on a par with much more expensive players. It sounded pleasingly weighty but still fast and fluid, with pace and momentum exercised with articulation and vibrancy.
Yes, its blocky, black-on-green display looked dated in 2013, so it looks positively ancient now – though maybe that now qualifies as retro cool (much like CD players in general). A classic CD player that shows Cyrus at its best.
Read the full Cyrus CDi review
KEF LS50 Wireless (2017)
Believe it or not, this is a full hi-fi system. The pair of active speakers have preamp functionality, Bluetooth, and music services built in. They also have streaming functionality to entertain tunes stored on a NAS drive or computer over your home network.
In short, the Award-winning LS50 Wireless does away with the decades-old vision of a hi-fi system involving lots of boxes spread around the room. For that, it's a genuine landmark product.
The sound quality is up there with that of a separates system. They may not be completely wireless (each speaker has a mains cable, and there's a wire connecting them), but it's still a very neat and clutter-free way to enjoy a high-quality audio performance. The LS50 Wireless II has taken sound quality even further, not to mention its convenience factor by removing the interconnecting speaker cable, and for that deservedly takes the reigns as the best all-in-one stereo speakers at this level.
Read the full KEF LS50 Wireless review
Linn LP12 Klimax (2017)
The Klimax has some serious heritage: the original Linn LP12 dates from 1973, and by the 1980s was the dominant deck in the UK. With such an illustrious pedigree, expectations were high when we ushered the latest model into our test room, but needless to say it didn't disappoint.
It feels like it's built to last decades. That's not hyperbole - the original LP12s can be retrofitted with more modern parts to bring them up to today's standards. Sound bursts with detail, while still coming together as a wonderfully compelling whole. There's an evenness to the presentation that means peaks and troughs in the frequency range never become too distracting.
The result? An immediacy and agility to proceedings that most rivals fail to muster. Pricey, sure. But this is one piece of hi-fi kit that truly endures.
Read the full Linn LP12 Klimax review
Naim Mu-so (2014)
Pre-2014, wireless speakers were mostly cheap, portable and a little bit underwhelming. Then 'proper' hi-fi company Naim came along and rewrote the rules. Awesome sound quality? Check. High-quality materials? Check. A refusal to compromise on design aesthetic? Check.
By treating wireless speakers with the same reverence as it does its wired models, Naim reinvented the wireless category, and inspired a host of imitators in the process. So it wasn't surprising when a better-sounding sequel, the Mu-so 2, showed up in 2019 to remind rivals who is boss.
Read the full Naim Mu-so review
Rega Planar 3/Elys 2 (2016)
Rega's Planar 3 turntables have been massively influential since they originally launched in the 1970s, and to this day they're still the go-to for vinyl aficionados around the world. But success brought a cautious approach, with each new model being more of an evolution than a revolution. Until this model touched down in 2016.
Just about every part of it had been rethought and reengineered. Combined with the slick new look, it made for a turntable that appealed to newbies and Rega diehards alike.
But one thing didn't change: the simplicity. The Planar 3 remained as easy to use as ever, and provided you take some care with placement, it's still tremendously pleasing to the ears. It's cleaner and clearer than its predecessor, with great transparency and more detail.
Read the full Rega Planar 3/Elys 2 review
Roksan Caspian M2 (2010)
More than a decade after hitting the market, this amp is still one of the best at its price. That's quite an achievement. The excellent build quality and superb sound make the M2 easy to recommend, even after all these years.
It only shows its age when it comes to the feature set. There are no digital inputs whatsoever, no streaming skills, not even a phono stage in sight. It's strictly an analogue-only affair. Old school.
But if you can live with that, you'll love the levels of dynamic expression, insight and rhythmic coherence on show. Bravo.
Read the full Roksan Caspian M2 review
Naim ND555/555 PS (2019)
It took a while for music streamers to seriously impress in the sound department, so it was probably sensible that Naim didn't bless its flagship 5000 Series with one until fairly recently. The two-box offering – again, one for the source (ND555), the other for the power supply (555 PS) – was the best digital streaming source we had come across by 2019, and remained so until the Linn further down this list showed up. For its £20k/$30k asking price, the pair was (and still is) as mature a streamer as you could expect, combining class-leading streaming software with decades of experience going into Naim's purist analogue audio circuitry. And yep, it remains a vital part of our hi-fi test room's reference set-up because of that.
Read the full Naim ND 555/555 PS DR review
KEF LS50 Meta (2020)
It's much easier to know when a product can truly have legendary status in hindsight, but while the KEF LS50 Meta are current class leaders and therefore we don't know when their time at the top will be up, they have already done enough to be labelled as one of the all-time greats – certainly if you merge its success with that of its descendant, the definitely-legendary LS50. The multi-Award-winners through down the gauntlet when they arrived in 2020 with their exemplary resolution retrieval and effortless musicality, and their clatter is still resonating around the market. Untouchable… as of yet.
Read the full KEF LS50 Meta review
Vertere DG-1 (2021)
Vertere has secured a brace in its DG-1 and subsequent DG-1S release. The former launched as a breath of fresh air in 2021 for its standout design and clever engineering (one example of which is its flat, triple-layered, aluminium alloy/polymer sandwich arm), and the latter has since taken engineering plaudits (that flat arm is now two bonded pieces of a five-layered polymer, for example) and consequently performance even further. The result is a record player that is unrivalled for entertainment and insight at its high-end (well, entry-level high-end) price point.
Read the full Vertere DG-1 Dynamic Groove review
Linn Klimax DSM AV (2021)
If you have read our Klimax DSM AV review, you probably would've known this entry was coming as much as we did. The music streamer is second to none when it comes to streaming sound quality, period. It's the best standalone streamer we've heard by a mile, an accumulation of streaming experience that is pretty much unrivalled in the market (Linn has been in the 'serious' streaming game far longer than many). When you also consider that it's vastly furnished with features, upgradeable and modifiable, and has perhaps the most intuitive, seamless app platform and operation in the business, its inclusion speaks for itself.
Read the full Linn Klimax DSM AV review
PMC Fact Fenestria (2022)
Again, without the benefit of retrospect, we feel this is a landmark product in speaker history and are therefore confident of its inclusion in this list. PMC's reference towers are as nuanced and agile as they come, ruthlessly revealing, and natural-sounding to the nth degree. Prohibitively expensive (for many), yes. But a double-page advert for PMC's engineering principles and vision, and indeed the wider British hi-fi industry at that.
Read the full PMC Fact Fenestria review
dCS Rossini Apex DAC (2022)
Rarely does a product live up to a model name with such strong positive connotations, but the dCS Rossini really does represent the apex of DAC design. The 'Apex' in the product name actually signifies a major overhaul of the company's hugely celebrated Ring DAC circuit, which combines with a solid streaming module (yes, it's a music streamer too), a significantly improved analogue board, and more connectivity and tweaking options than you need or will likely ever use to produce an outstanding all-round performer. Honestly, it's hard to imagine how this DAC performance can be bettered.
Read the full dCS Rossini Apex DAC review
SME Model 60 (2022)
SME's reputation is built on exceptional build quality and the Model 60 maintains that high standard. One look at that handsome precision-machined aluminium chassis and you can be in no doubt you're looking at a turntable most people could only dream of owning. But that's just the icing on the proverbial cake, of course. The Model 60 is the company's first new flagship player in three decades, taking that esteemed position from the Model 30 which launched in 1991, and has been every bit worth the wait. "There's a very real feeling that the turntable is digging up every last bit of information from the record groove," to quote our review. "It's a convincing performance that transports us in time and space to the point the music was recorded. We can't ask for more than that."
Read the full SME Model 60 review
MORE:
See all our British Hi-Fi Week 2023 coverage
The What Hi-Fi? Hall of Fame: the best What Hi-Fi? products of all time
7 of the best British hi-fi innovations and technologies
This terrific-value hi-fi system is great, British – and punches above its weight