There are many ways to home cinema heaven - be it adding a soundbar to your flatscreen TV, going for a bigger picture with a projector or powering up a home cinema amp for the ultimate surround sound experience.
We've rounded-up the latest deals on some suitably impressive kit, so whether you're after a 4K Blu-ray player, powerful AV amp or a smaller soundbar, we can help.
Read on to discover the best home cinema bargains for Black Friday 2018.
MORE: Black Friday 2018 - everything you need to know
Blu-ray player deals
Crisp, natural-looking picture
Excellent detail and colours
Great value
What Hi-Fi? Awards 2018 winner. The X700 is a fantastic 4K Blu-ray player that makes watching Ultra HD discs an affordable reality. And that's before you take into account the savings you can make. The Sony delivers a stunningly natural 4K HDR (including Dolby Vision) picture, blessed with realistic colours and smooth, stable motion. The picture is complimented by a punchy, agile and entertaining sound. All-in-all, it's a very agreeable package for the money.
LG UP970
Rich colours
Fine detail
Solid uspcaling
It's difficult to grumble about the LG, especially when you take into account its price. Picture quality is pleasing, and its audio quality is decent. This 4K player ticks a lot of boxes and is one of the few machines out there to support Dolby Vision HDR. Connectivity includes an optical connection, twin HDMI outputs and an ethernet port for a more stable network connection. If you want an entry-level machine to hook up to a 4K flatscreen and soundbar, then the UP970 won't let you down.
Soundbar deals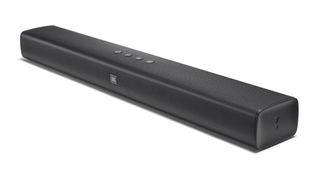 Solid and punchy sound
Plenty of bass
Good range of features
The JBL Bar Studio is proof there's some amazing value to be had in the soundbar market. Originally tested at £150 and now available for less then £100, it's a fine budget option with a punchy and rich sound. There's little to quibble about when it comes to its build and on-board features, too. At just under 6cm in height, it will slot under most suitably sized TVs without looking out of place. HDMI (ARC) and optical sockets cover the rear and Bluetooth is also onboard for simplified streaming. At this kind of money you can't really go wrong.
Crisp, dynamic sound
Spacious and immersive
Slim, practical design
Yamaha has proved time and again that it knows how to build a decent soundbar. Take the Award-winning YAS-207. It creates a hugely effective virtual surround sound experience which defies the bar's physical proportions. It creates a wider spread of sound than rivals at the money, while it's more spacious and more enveloping too.
Add 4K HDR support and Bluetooth streaming and you've got a convincing, convenient package, now available with a tidy discount.
AV receiver deals
Easy to set up
Powerful bass
Good spread of sound
If you own an entry-level surround sound set-up, and fancy upgrading your AV amp, this Yamaha is a solid choice. Shop around and you'll find as much as £200 off its original ''tested at' price. It's a powerful performer that will bring a party to whatever you're playing - whether that's streaming from your smartphone, from your hi-res music library or a state-of-the-art Hollywood blockbuster soundtrack. Build quality is solid and sturdy and you've got a vast array of connectivity options to choose from including four 4K-compatible HDMI sockets, Bluetooth, wi-fi, Spotify Connect and Apple AirPlay.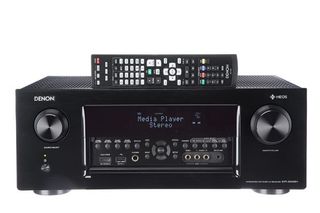 Excellent clarity and detail
Fluid dynamics
Exhaustive features
You can now save around £900 on this five-star home cinema amp. Tempted? If you own a suitable surround sound package, you probably should be. The Denon is decked out with all the features and technology you'd expect from a modern home cinema amplifier. There are eight HDMI inputs, 11 discrete channels of amplification plus Dolby Atmos, Vision and HLG HDR compatibility. Hi-res streaming to the tune of 24bit/192kHz is supported out of the box, as are DSD files. But besides the extensive feature set, it's how articulate, rhythmically precise and musical it sounds that really grabs your attention. This all makes for a hugely entertaining AV receiver.
Projector deals
Sharp and crisp picture
Impressive upscaler
Easy to use
The W1700 brings 4K HDR pictures to a new price bracket, and with a saving of around £500 this projector has to be considered more than just decent value for money. Skin tones are balanced, there's a good level of detail and insight, and its upscaler is of sufficient quality to keep your DVD collection relevant. Motion handling could be a tiny bit better, but it's hard to grumble too given the asking price. The BenQ provides a big picture for an extremely tempting price.
Balanced colours
PureMotion setting valuable
Praiseworthy upscaling
This Optoma projector offers big-screen thrills that, due to its laser technology, are bound to last. Laser projectors are more efficient than their bulb-powered brethren and they don't need to warm up or cool down. The UHZ65 produces an absorbing picture that's easy on the eye, with good depth perception, natural motion and a fine balance between punch and precision. It isn't the most stylish of machines, but its picture quality and attractive price are the main attractions here.
MORE: Black Friday TV deals: The best 4K, HDR, OLED TV deals