If you're in the market for a new wireless speaker or two, there are a plethora of models for you to choose from at the moment. From a portable speaker on a budget to something a little more substantial to free your digital music, it can be hard to know exactly where to start.
Are you looking to build a system in a smaller room of the house? Maybe you want a device that'll let you play your music when you're on the go? Or perhaps you're thinking about replacing an iPod or iPhone dock system? From AirPlay to Bluetooth speakers, and multiroom solutions, this page gives you a selection of the best wireless speakers that money can buy.
MORE: Read all our wireless speaker reviews
Video reviews
Best wireless speakers under £100
Cheap AirPlay speakers are hard to come by but you can get some pretty nifty Bluetooth speakers at this price point.
Five stars
Tested at £85
For the price you pay, this Sony speaker is quite a find and is crammed with features. It's nice to use and can deliver impressive volume in a decent-sized room. So if you're on the hunt for a wireless speaker under £100, this should be near the top of your list.
MORE: Sony SRS-BTM8 review
Five stars
Tested at £100
"A sensational blend of portability and performance" was how we described the Flip when we first gave it a go, and now this portable Bluetooth speaker is on sale for around half its original retail price. That spells bargain to us.
MORE: JBL Flip review
Best wireless speakers under £200
If you don't want to break the bank but have a budget that stretches to three figures then you won't be short of choice on wireless speakers. Spend this sort of money and you can even get a wireless speaker that will let you create a multiroom system.
Five stars
Tested at £120
Our 2014 Wireless Speaker Best Buy up to £150 is a no-brainer: it tips similarly priced speakers into a cocked hat.
The Minx Go is a doddle to set up and you can pair up to eight devices at once – which is just as well, given that all your friends will be queuing up to use it. It replaces last year's Minx Go model and has plenty more to offer (more features, a smarter design), while also offering a fun, detailed sound that makes it an even better proposition than before.
MORE: Cambridge Audio Go review
Five stars
Tested at £170
A hotly-contested price point, with wireless Bluetooth speakers from Beats, Bose, Creative, JBL and more, all competing for top spot. But the Ultimate Ears Boom ticks all the right boxes for us, just pipping the five-star Bose SoundLink Mini (which is still a fine choice).
MORE: Ultimate Ears Boom review
Five stars
Tested at £175
Far removed from traditional hi-fi kit, the Pure Jongo S3 comes with interchangeable, multi-colour speaker grilles, an upward-firing subwoofer and four tweeters.
You can connect multiple Jongos to form a simple, Sonos-style multi-room system and what you get is a surprisingly beefy-sounding unit that's great at spreading its sound around your room. Bluetooth and WiFi streaming are a bonus.
MORE: Pure Jongo S3 review
Best wireless speakers under £300
It's at this price category that decent AirPlay speakers start to feature, offering you an alternative to Bluetooth should you want the neatness and simplicity of streaming directly from both your Apple iPhones and iPads and your iTunes library on a computer.
Five stars
Tested at £200
The AirStream S200 has both bases covered with AirPlay and Bluetooth capability built in. With excellent performance, great price and streaming features galore, this is a very desirable wireless speaker. It's our Best Buy wireless speaker £150-£300, Awards 2014.
MORE: Monitor Audio AirStream S200 review
Four stars
Tested at £230
Prefer a speaker with a dock? This JBL is the best of the bunch for this sort of money. There's a Lightning dock for dealing with iPhones but wireless comes in the form of Bluetooth, making it compatible with a whole world of devices.
An enthusiastic sound, it turns out 'Rumble' is an apt name for this energetic sounding speaker. You won't be disappointed.
MORE: JBL OnBeat Rumble
Five stars
Tested at £260 - Compare Prices
The current mid-point in Sonos' Play-branded Zoneplayer range is a cracking little performer and the complete Sonos system was named Best Multiroom Streaming System up to £500 in our 2014 Awards.
It's an all-in-one system combining a network music client, amp and speakers and sounds much better than its prize and size may suggest. If you fancy building a multiroom streaming system, this is the best way to go.
MORE: Sonos Play:3 review
MORE: Sonos Buying Guide
Best wireless speakers under £500
Spend this sort of money and you can expect to get something approaching hi-fi sound from what remain relatively compact speakers, as premium brands and specialist hi-fi companies get in on the wireless speaker act.
Five stars
Tested at £330 - Compare Prices
We voted the Geneva Model S DAB+ our Best Buy wireless speaker £300-£500 in 2014 for a simple reason: it delivers hi-fi grade audio from a wireless speaker, all wrapped in a classy looking, beautifully built package.
ALSO CONSIDER: Q Acoustics Q-BT3
OK, so there's more than just wireless playback going on with the Q-BT3s, but what you get is an awesome package – Bluetooth streaming, an iPod dock alternative, powered stereo speakers and more. A great small system.
Five stars
Tested at £370 - Compare Prices
Standing apart from a sea of monochrome wireless AirPlay rivals, the Libratone Zipp comes with a series of brightly-coloured felt covers. But there's much more to this speaker than the aesthetics – its 360-degree sound and ease of use make it a nice wireless experience.
MORE: Libratone Zipp review
Best wireless speakers under £700
For wireless speakers in this price range, you should expect serious sound quality not too far off what you can get from a budget home hi-fi system. Beautifully crafted and wonderfully capable, the money you'll be paying will be well worth the investment.
Five stars
Tested at £645
It's new territory for the Danish company and not exactly at the budget end of the market, but you quickly hear why. AptX Bluetooth allows for high-quality wireless streaming, and DALI have used their speaker expertise to great effect. That's why the Kubik Free is our Best Buy wireless speaker up to £750 in our Awards 2014.
MORE: DALI Kubik Free review
Five stars
Tested at £700 - Compare Prices
At £700, it might seem like quite a lot to pay for an AirPlay speaker but the hi-fi sound quality and sheer ease of use makes the B&W A7 worth it. Once you've set the A7 up using the B&W app, it makes a subtle but classy addition to your surroundings, while offering excellent sound.
MORE: B&W A7 review
Best wireless speaker £750+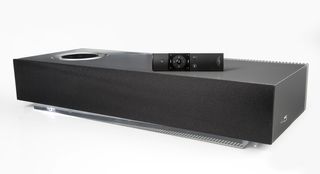 Five stars
Tested at £895
Our 2014 Product of the Year in this category is Naim's superb new Mu-so. It's a hugely desirable wireless speaker with hi-fi aspirations, and delivers a stunning performance.
MORE: Naim Mu-so review
Others to consider
Bose is another manufacturer looking to take on Sonos in the multi-room speaker game, with the launch of three wireless streaming systems – including the Soundtouch 20. It'll work with your home wireless network and give you cable free access to your music. Look out for our review coming soon.
MORE: Bose SoundTouch wireless systems take aim at Sonos
Another Kickstarter campaign, this time to fund the UK-based Musaic. The company is looking to secure additional funding to put the MP5 and MP10 speakers in to production.
First spotted at CES, we'd certainly like to hear more from the company that was founded by a former Cambridge Audio engineer. Watch this space.
MORE: Musaic launches wireless hi-fi crowdfunding campaign
MORE: Best AirPlay speakers to buy in 2014