After months of pursuing, the deal to buy the house I had originally intended has fallen through. We've decided to go for part exchange for a new build, and they're offering a good deal. We're likely to finalise the deal on Saturday. Luckily, the house is still under construction, and will be ready by November or December.
So I have an excellent opportunity to get the first and second fixes done during the build stage!  :clap:
This is the ground floor plan: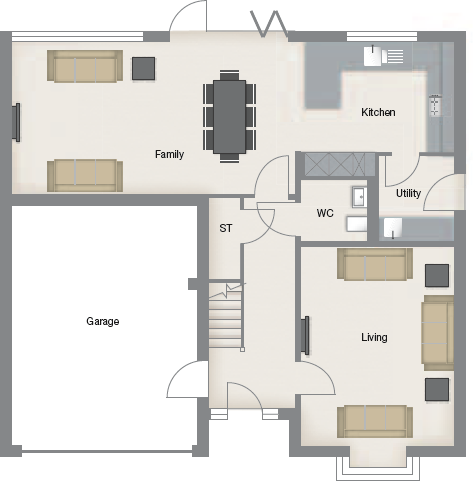 And this is the first floor: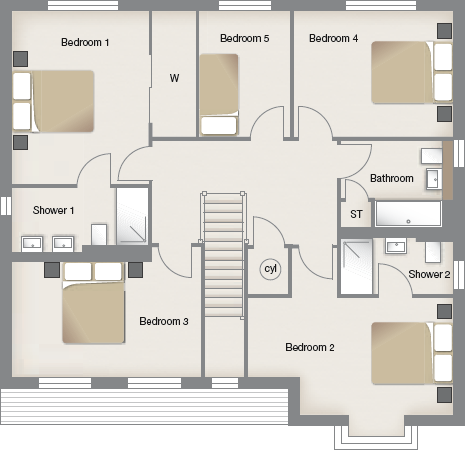 My plans are:
1) Projector based system in the living room, with the projector screen in front of the window and in-ceiling and in-wall speakers and subwoofer (could go for multiple speakers to support Dolby Atmos, but need to do more research on this). Again, due to lack of space for centre speaker, I'm think of the Kef motorised ceiling speakers. As the living room is small and I want to ensure a minimalistic look for spaciousness, I think this is the best compromise.
2) Build an all-year round conservatory / garden room at the back, throughout the length of the house. The left half will be used for a TV (my existing Kuro!) with 5.1 or 7.1 sound system and the right half will he a gym / baby play area. 
3) TV with soundbar in bedroom 1 (probably a Sonos Playbar).
My questions are:
1) How feasible is it, to have a central media hub and using an AV receiver with 3 HDMI outs to feed all 3 TVs / projector? And where should it be placed? Under the stairs? But then, how can it feed multiple 5.1 / 7.1 systems?
2) It's probably better if I use my existing AV receiver in the garden room. My existing Monitor Audio Radius HD speakers could be used, but I can't find any stand for R225HD speakers, and I don't want to wall mount. I suppose I could buy the R270HD floorstanders which is probably still available at discounted rates. I could use the zone 2 feed of the receiver  for outdoor speakers.
Any suggestions / advice?