So with my Dining Room extension finally finished
I've now got a working AV setup in there...
I finally plumped for a Pioneer Amp/Sub combo: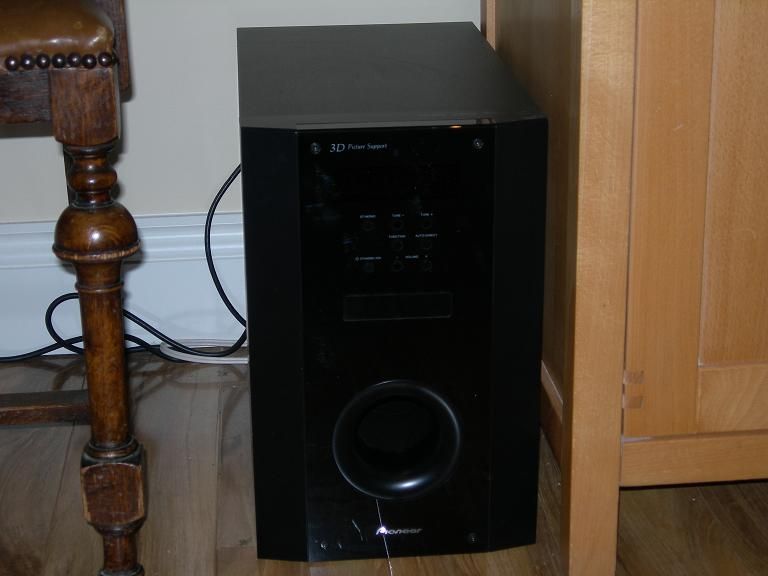 It satisfied Mrs. Scene's requirement for a discrete amp (because you've got to have a sub anyway) and it does 3D pass-through, which is good for the future. It comes from the HTP-FS510 system, but I'm only using the amp/sub - I've still got the other speakers in a box. It doesn't do HDMI passthrough when switched off, which is a little bit of a pain, but that was a compromise I had to make.
I'm using the KEF eggs from my KHT2005.2 system, with the cables routed in. I must say that, with the Pioneer and the MCACC run, the sound is really pretty good and combined with the sub gives a really good 5.1 system:
Currently, I've got the kit sitting on my sideboard, until I get some small wall-mounted shelving for the Freesat HD box, Dell Zino HD and Sonos ZP90 (not in shot). Oh and a bigger TV - when budget allows...
Close up shot:
The little blue box under the TV, in case you're wondering is the NetGear GS105E gigabit switch, as the FreeSat HD, Dell & Sonos are hard wired.
Full kit list:
Pioneer SX-SWR2 (Amp/Sub from HTP-FS510 system)
KEF 2005.2 eggs
Dell Zino HD - as BDP (I also use it just as a PC)
Echostar hds-600rs
Sonos ZP90