Current set-up
Not added anything to this section for ages, so thought I'd upload the current set-up. Not quite so many boxes as some of you have, but it does the job rather well I think!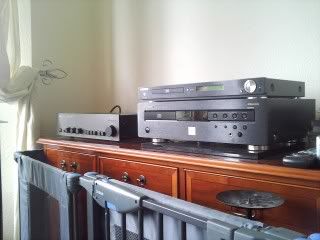 Apologies for the slightly fuzzy image, but this is NAD 3020A amp to the left, the Samsung DVD-HD950 universal player on top of the Marantz SA7001-KI Signature SACD/CD player which is the main one used for listening. The DVD-A capability in the Samsung comes in handy for the odd such disc. The "fence" in front of the stereo is the kids' collapsable metal playpen. Keeps their little hands off Daddy's toys...!

Then the fruits of their labours (the hi-fi's, not the kids!) are heard through these:-


Total bargain - Mission 752s for £80 off Ebay, about 15 years old, give or take a month or two and in superb nick.

Hi Fi World rates these as "cracking floorstanders" and WHF at the time were handing out 5 star reviews for anything in the Mission 75 series, so these were no exception. They are exceptionally good in this, the pre-Freedom incarnation. The original mesh-dome tweeter is anything but harsh.

Overall, the system gels nicely; good depth in the bass, full and expressive midrange and the treble is all present and correct without becoming too shrill. I could have a couple of minor gripes on some music, but the overall synergy is extremely impressive for what is effectively a mix of 1980s/90s/00s lower to middle price range components!