New PC / amp / speaker setup, help needed with positioning!
Hi all
I have been a member/lurker here for a few years but haven't ever really post. Anyway...I have recently finished setting up a PC for music listening in my study. Some of the components I already had and some I have bought recently. Anyway, once all set up I began some listening using JRiver Media Player and FLAC files.
All I can say is I am very diappointed with the sound I am getting
I'm almost certain this is because of the position of the speakers in relation to me. As you can see in the photo, the speakers are either side of the computer desk and are 6 feet apart (that's as close together as they'll go) When sitting in the chair at the desk I am only 4 feet from each speaker. I cannot move the desk any further back into the room.
At first listen the problems were a lack of bass, and a very harsh treble which was almost painful to my ears. I moved the speakers closer to the back wall (they are now 8 inches from the wall) and this has helped improve the bass a bit. Toeing the speakers in towards the listening position really accentuates the treble so they are now facing straight forward. However there is still a muddied bottom end and quite a harsh treble, in short they sound pretty awful.
Can anyone make any suggestions to improve the situation given the limitations of the room?
Thank you!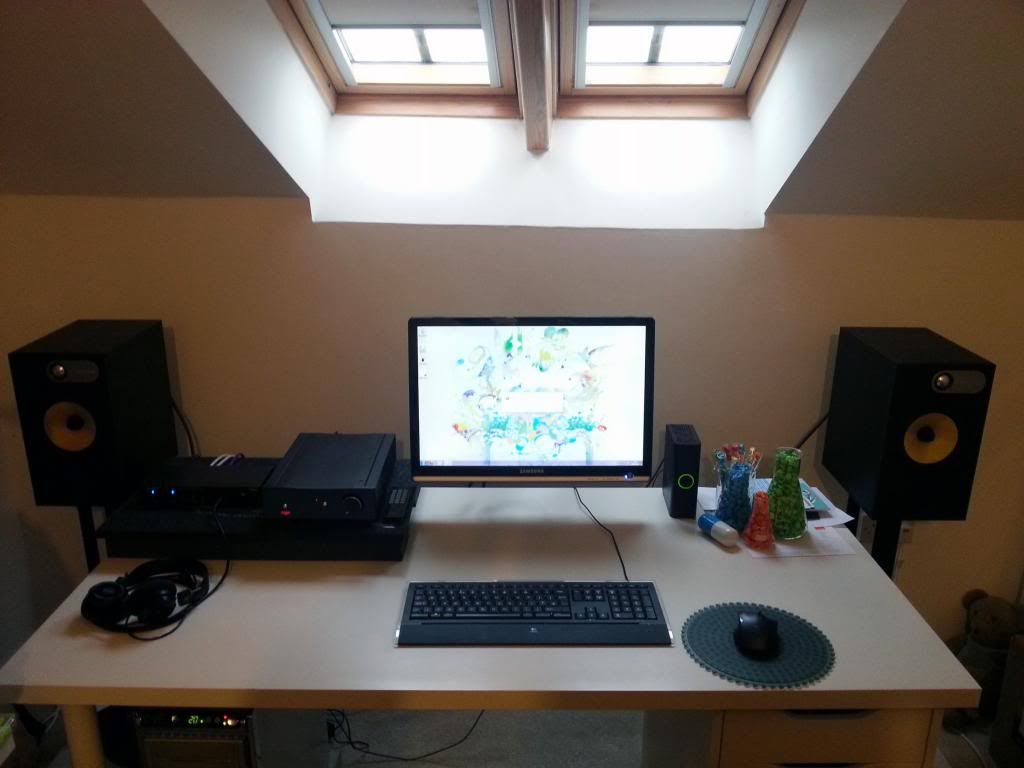 Set up is as follows:
Asus Xonar D2 soundcard
Beresford Caiman with Gator mod
Rega Brio-R amp
B&W 385 speakers
Alpha stands
QED Performance digital coax cable
Audioquest flx/slip 14/4 speaker cable
Atlas Element RCA cable